Once Upon a Time, in a place far far away, was a little fairy called Fairy La La
Fairy La La Land opened their doors in 2011 with a team of dedicated theatre actors that go above and beyond the average children's entertainment business to create truly memorable events with authentic character's for children all over Sydney.
​They combined their talents with their love of children to deliver a variety of energetic characters who live in a magical world. With terrific story telling, luminous costumes and lively performances, the children will enter a fun filled world of comedy, magic, musical games, fast effective face painting and better than ever balloon twisting.
The entertainers offer the adults time to mingle amongst themselves resulting in stress free events whilst the children are in stitches with giggles and fun for all! Your event will be the most talked about children's event all year.
Fairy La La Land travels all around Sydney from The Northern Beaches, The North Shore, Inner West, Western Sydney, Sutherland Shire, The Central Coast and as far as Morisett. We are also known to have our show on the road for special events and festivals.
Fairy La La Land is not a talent agency. Their performers are working together at create a unique experience with professionalism to each and every event, guaranteed.
Their female and male entertainer's have received their theatre training from the following performing arts institutes NIDA, ACTT, AADA and Trinity Collage.
About the Director
The director of Fairy La La Land, Laura Viskovich, is a member of the NSW Business Chambers. She is an advocate for promoting healthy lifestyle. Graduated from Newtown Performing Arts High School, received High Distinction Speech and Drama through Trinity College, danced with "The Tap Dogs" in 2000, received 'The Best Actor Award 2011' from Tony Knight (Head of NIDA from 1992 – 2011) and has appeared in the Sydney Theatre scene since an early age.
It is Laura's passion that drives Fairy La La Land to excel in every area of the business. It's this passion that ensure's each and every children's event will be the most successful event, guaranteed!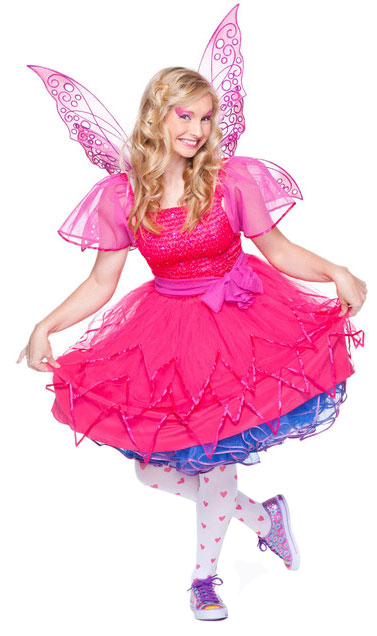 Founder of Fairy La La Land
Laura Viskovich
About Events
Your child and their guests will go on a magical journey:
Finding Treasure
Fairy Wishes Granted
Being a Princess for a Day
Searching for magical seaweed with a Mesmerising Mermaid
Finding Magic with the Friendly Wizard
Laughing with the Charismatic Clown's
Their theatrical costumes and bright personalities accompanied with their fully efficient party kits, will ensure a smooth transition from the world we live, into the fantasy world of………. FAIRY LA LA LAND!
Fairy La La Land deliver's a wonderful party experience through..
movement
music
juggling
unicycling
storytelling
magic
puppets
interactive games
funky balloon twisting
fast unique designs for face painting
The entertainer's perform age appropriate games and magic shows. Every theme party has different stories depending on age and theme.
Children can choose to enter the magical world of La La Land with..
Fun Fairies
Swash Buckling Pirates
Charismatic Clown's
Pretty Princess's
Friendly Wizards
With bubbly entertainment, bright fun costumes, fun games and prizes for all…oh and please don't forget that there is fairy wishes granted for all!
WARNING: The Character's are the real deal! Straight from La La Land. High Energy is guaranteed!